Concert
The Legend Comes to Life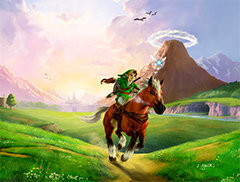 Now touring across the world, Symphony of the Goddesses brings Zelda fans and symphony goers alike an entirely new, exciting multimedia experience presenting over 30 years of music from The Legend of Zelda franchise as never before.
Fans will relive all of their favorite moments from a fully developed and thoughtfully structured program including memorable, beloved melodies from titles including Ocarina of Time, The Wind Waker, Twilight Princess, A Link to the Past, Link's Awakening and more. Start planning your adventure today!

A Symphony Fit for the Goddesses
Designed to be a journey as epic and thrilling as the Legend itself, The Legend of Zelda: Symphony of the Goddesses presents the music of this celebrated franchise with all-new arrangements directly approved by franchise producer Eiji Aonuma and Nintendo composer and sound director Koji Kondo (Super Mario Bros., The Legend of Zelda).
Featuring a first in video game concert history, The Legend of Zelda: Symphony of the Goddesses has been arranged and programmed with classical sensibilities in mind, organizing the music of this beloved franchise into a complete, 5 movement symphony, worthy of the Hero of Hyrule himself. For more information, see the full program.
X
The Program
~ACT I~
Overture (2017 Updated)
~INTERLUDES~
Dragon Roost Island
Majora's Mask Medley
Breath of the Wild
A Link Between Worlds
~THE SYMPHONY~
Prelude ~ The Creation of Hyrule
Movement I ~ Skyward Sword
Movement II ~ Ocarina of Time
~Intermission~
~ACT II~
Intermezzo ~ Temple of Time
Movement III ~ The Wind Waker
Movement IV ~ Twilight Princess
Movement V ~ Time of the Falling Rain
Finale